Todd Skene
Biography
Todd Skene, MBA is just like any other father with a desire to raise a healthy child. Concerned with the constant marketing of unhealthy foods to children by corporations that have taken over the kitchen and what we eat, and disappointed with seeing one too many nursery rhymes about cakes, cookies, and candy, he believes there are better C words that kids can learn when it comes to food. After identifying a lack of simple, fun, educational books that children can read about healthy eating and nutrition, especially about plant-based foods, he came up with the idea of N is for Nutrition—a book for children, parents, and educators to use for learning and teaching basic eating principles for a healthy life. He was accepted into the British Mensa Society and was also nominated for Oxford University's prestigious Rhodes Scholarship.
Books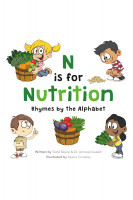 N is for Nutrition: Rhymes by the Alphabet
by

Todd Skene
Journey through a colorful alphabet of fruits, vegetables and more with N is for Nutrition!
Todd Skene's tag cloud