Tom H. Richardson
Biography
Tom H. Richardson is a publisher and author. As author, he has written the political novel _Sun Rising In The West: Does Japan Buy California?_, the humorous _The Dessert Games: A Hunger Games Parody_, and the YA novel _Cinderella, Zombie Queen_. He also has sold three short stories to the online magazine _The Grantville Gazette_. As publisher, he founded Hypo To Helio Books. (The name means "under the sun.")
Where to find Tom H. Richardson online
Books
Cinderella, Zombie Queen
by

Tom H. Richardson
The kingdom of Lionbear gets a magic-zombie invasion. Ella's fairy godmother gives Ella a magic necklace that protects her from zombies; only Ella can wear it, because she alone in Lionbear is pure at heart. Meanwhile, Ella is harshly mistreated by her stepmother and stepsisters. Surprise: With the necklace, Ella can command zombies. Ella is tempted to zombie-murder her stepmother and stepsisters.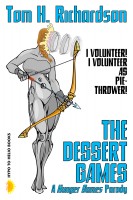 The Dessert Games: A Hunger Games Parody
by

Tom H. Richardson
Karen Ebergrimm and twenty-three other kids throw pies at each other's faces in an "arena," in order to determine who will win Dessert Privilege in the Panem school system. Karen has volunteered for the Dessert Games for her sister Primmy. Karen doesn't know what to think about Poofa Meadowlark, who's also in the Dessert Games and also from School Zone Twelve, who tells Karen that he loves her.
Tom H. Richardson's tag cloud