Tom Holt
Biography
Tom Holt was born in 1961 in London, England. His first book, 'Poems By Tom Holt', was published when he was twelve years old. While he was still a student at Oxford he wrote two sequels to E F Benson's Lucia series. After an undistinguished seven-year stint as a lawyer, he became a full-time writer in 1995 and has published over thirty novels. Tom lives with his wife and daughter in the west of England. As well as writing, he raises pigs and pedigree Dexter cattle.
Where to buy in print
Books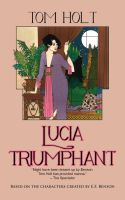 Lucia Triumphant
by

Tom Holt
In postwar Britain, Lucia and Elizabeth continue to vie for ascendency over the quaint town of Tilling. Who will prevail? Neither woman, if the Tillingites can help it, for their antics offer the best entertainment in town. The second of Tom Holt's officially sanctioned sequels to the hilarious "Lucia" novels of E.F. Benson. First published in 1986.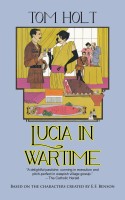 Lucia in Wartime
by

Tom Holt
Across the Channel, the battle rages. On the Tilling front, another battle is being fought—the constant war of wits and social ascendancy between Lucia Pillson and Elizabeth Mapp-Flint. Lucia invariably wins the day. But how long will she be able to retain the admiration of all Tilling if her power remains unchecked? The first of Tom Holt's official sequels to E.F. Benson's Lucia series.
Tom Holt's tag cloud