Tom Hendrickson
Biography
Tom was born into an average, hard-working lumberjack family. In his youth, the majority of his playmates and friends were First Nation children. It was during these younger years that he witnessed, first-hand the evils of prejudice. Tom has spent his entire life fighting against the blight of bigotry.

After graduating from high school, Tom spent most of his time in the mountains prospecting. When not looking for gold, Tom was falling trees, a skill taught to him by his father since he was five years old.

Tom always had a yearning for the sea and adventure. He fulfilled his dream when he became a merchant sailor and spent some time sailing around the world. The sea was still calling when Tom bought his first commercial fish boat; it was one of three he owned over a period of nearly thirty years as he fished the Pacific west coast.

During this time, he married his wife Margaret, a beautiful young woman of Aboriginal heritage and together they raised five children.
Aside from the prospecting, fishing and logging, Tom has found the time to serve his community as an elected school trustee for over twenty years.

Tom has always been known as a great storyteller. His association with First Nation Elders, old fishermen, loggers, and prospectors since childhood has continuously added more lore and sayings to Tom's ever-expanding view and knowledge of our land. Keeto is his first serious attempt at putting those stories into words to share with others.
Books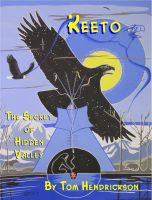 Keeto - The Secret of Hidden Valley
by

Tom Hendrickson
Price:
$6.99 USD.
Words: 51,020.
Language: English.
Published: March 31, 2014
. Categories:
Fiction
»
Adventure
»
General
(4.50 from 2 reviews)
Keeto grew up valuing and respecting his culture. Grandfather knew he could be trusted with the sacred knowledge; the knowledge of the Mountain People. To the outside world, they were known as Sasquatch or Big Foot. To the members of Keeto's village they were considered ancestors who had left the salt sea from days long ago. Enjoy the journey with Keeto.
Tom Hendrickson's tag cloud