Tom Kwok
Biography
Loo Shang is a girl's name. It means ''the way to get riches''. But the boy whose wealthy Chinese family was dispossessed by the Communists and fled to live in a tiny apartment in Hong Kong harboured little hope of ever getting riches. Born to a young widow, he was branded ''bastard'' and tormented for his clumsiness, his penury, and his feminine name. Life was hard for young Loo Shang. It was harder still when the teenager became Tom Kwok, after migrating to Australia, alone, at age 14. The challenges of learning English and adapting to a foreign culture seemed, at times, insurmountable. Financial hardship compelled Tom to work long hours in menial and often physically taxing jobs. At school, Tom was ''Ching Chong Chinaman'', ridiculed and mocked. He studied in snatched moments sitting on his school case at bus stops and in the tram driver's compartment. He lived in fear of immigration authorities learning that he worked illegally, and of ''losing face'' through scholastic failure and forfeiting his dream of a secure future. In the way of the Chinese, his paternal grandmother showed no affection and seemed incapable of understanding. Tom hardly knew his mother, but he has her and his paternal grandmother to thank for his new life in Australia. Though often harsh, his grandmother's uncompromising discipline shaped a man who knew how to win respect. The unexpected kindness of strangers carried him through the toughest times. Overcoming challenges slowly built confidence to continue to strive. Tom Kwok didn't ''get riches'' in the material sense, but he achieved his career and life goals. Beginning his career with Brisbane City Council, he continued his studies in adulthood to achieve a Doctor of Philosophy and become a building construction administrator/ project manager and university lecturer. Happily married and the proud father of five children, and now retired, Tom felt the urge to tell his story, and returned to study to master the art of writing a memoir. Iron Rice Bowl is the inspirational story of Tom's struggle and eventual success.
Where to buy in print
Books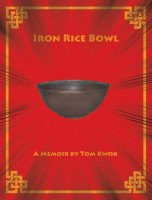 Iron Rice Bowl
by

Tom Kwok
The name Loo Shang means ''the way to get riches''. For this child of a dispossessed Chinese family, there were no riches. His life was hard. An immigrant, alone, at age 14, his life was harder. Enriched with extensive exposition of Chinese history, customs and beliefs, Iron Rice Bowl is Loo Shang's inspiring story of struggle, challenges, and eventual success as the Australian, Tom Kwok.
Tom Kwok's tag cloud