Thomas A. Damron
Biography
I graduated from Marshall University in 1955 and was immediately drafted. I spent my military life in civilian clothes as I served as a Special Agent in Counter Intelligence. After discharge I worked for The Travelers Group for 31 years. I retired from Travelers in 1990 and because a self-employed Financial Planner. I taught parts of the CFP program as an Adjunct Professor at Brookhaven College, a part of the Dallas County Community College system.

II retired retired from my Certified Financial Planner (CFP). practice in 2005 and I began writing as a hobby. I was fortunate to have an old classmate working as a professional Editor after she retired from Clemson University. She read my work, it excited her and she began to encourage me to pursue my writing even to expand it to short stories. I have focused on the Short Story Genre, tried to polish it, and am no ready to see if I can expand it. My focus is on the Crime/Suspense/Thriller/Mystery genre. 'Killing Time' is my first venture into publishing. My Editor has been pushing me now for four years to publish. Therefore I will see how it goes.
Books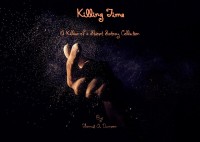 Killing Time
by

Thomas A. Damron
Killing Time is a collection of five short stories of varied characters, different locations, and unique situations that define the motive that precipitate the ultimate demise of the character or characters.
Thomas A. Damron's tag cloud