Toni Bylend
Biography
Toni Bylend was born in Surrey, in the South East of England, but did not remain there for long. Before she reached the age of 9 her father found work in the North of England. It was the seaside town of Filey where Toni came of age and found work herself in a nursing home for children. It was there were Toni found her love for telling stories, and it was her fellow nurses who encouraged her to write them down.
With no prior experience, she found putting her thoughts onto paper challenging, but ultimately rewarding. Her son offered to word process her first completed manuscript, and publish it on the internet for the world to read. "I don't know what I'd do with one of those e-books," Toni once said, "but if people want to use one to read my stories, then I'm happy they exist!"
Toni now lives in Devon with her husband, three children and two Jack Russel Terriers, who she takes on regular walks (her dogs, not her children!).
Books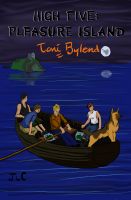 High Five: Pleasure Island
by

Toni Bylend
Rick, Jay, Anya, Gene and Tim are the 'High Five'. All they really want to in life is to get high. But when they go searching for discarded marijuana on Kirrin Island, they find a lot more than they bargained for. They find darkness and danger in the dungeons of Kirrin Castle, the police aren't being all that helpful... And there's not an ounce of ginger beer in sight.
Toni Bylend's tag cloud