Tony Leslie Duxbury
Biography
Born in North London in 1955. Left school at 16 without qualifications. Found work as a trainee in a commercial art studio, left after two years to travel. That became the main passion in my life. So far, I have visited 28 countries. I would travel, return, find work, save money and then travel again. That set the pattern of my life for many years. My jobs have ranged from pearl diving (dishwashing) to English teacher. By the late 70s it was becoming more and more difficult to find work and so I looked around for a qualification that I could take with me on my travels. To cut a long story short I ended up studying for a degree in Social Science as a mature student. Because I had been out of education so long I attended a remedial class and my tutor, a published author herself, encouraged me to try creative writing. It wasn't until I graduated that I tried my hand at it and then I sat down and wrote six pages of my first novel. Then I was struck down by a severe case of writer's block. I couldn't touch them for two years until I returned to Guatemala, but I took those pages with me and was able to finish my novel there.
Guatemala, C.A. has become my adopted country. The first time I visited was as a traveler. The second time was as an exchange student during my gap year and it was then that I met the woman who is now my wife. I returned to England to finish my degree, but found no work opportunities because of the continuing recession. Returning to Guatemala I became an English teacher. I also married the woman I loved and became the step-father to three children. For the next 15 years I taught English, first in a Language Academy. From there I progressed to teaching independently and went on to form my own company and employ others. A prolonged economic down turn finished off my business and with my wife I returned to England. After several years we returned to Guatemala.
Books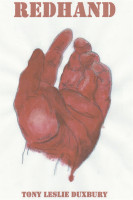 Redhand
by

Tony Leslie Duxbury
A post-apocalyptic sword fantasy. A collection of five short stories featuring the same protagonist.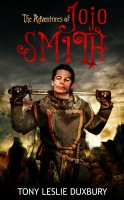 The Adventures of Jojo Smith
by

Tony Leslie Duxbury
Price:
$2.99 USD.
Words: 89,390.
Language: British English.
Published: January 6, 2016
. Categories:
Fiction
»
Fantasy
»
Historical
Jojo Smith is an involuntary time-traveler. He ends up in a medieval type society. Badly frightened by his situation, all he wants to do is to go home, but nobody's listening. Scared and desperate, he decides to do something about it. He hits on the idea of stirring up a revolution. A sword and sorcery tale for those that like a dash of humour with their fantasy.
Tony Leslie Duxbury's tag cloud