Tony Espino
Biography
I was twelve, and I stole a pen from a video store. They saw me steal it. My punishment: late fees every time I returned. If I returned it on time, then it was two days late. If it was a day late, then it was three days late. This was a problem since I loved video games and would rent them on a regular basis. The money to do so I had to earn from chores. This was another problem for a slacker such as myself who wanted nothing more than to play Sega Genesis while listening to Dr. Dre's Chronic album. All of this because of a pen. I took my frustrations out on that pen for the madness it brought to my life, writing whatever nonsense popped into my head for hours until I expended every last drop of ink that gave life to that cursed pen. But, as it turns out, the nonsense still remains long after the ink is gone.
Where to find Tony Espino online
Books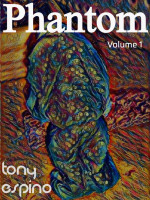 Phantom Volume 1
by

Tony Espino
Phantom is the story told by a narrator behind the wheel of a car about a Phantom made out of loneliness by a Mad Lady. The Trenchcoat in High Heels who acquires him. Two sailors lost at sea. A Man who delivers vending machines full of body parts. A Phantom Replica who survives on a steady diet of matches. And a universe that doesn't stop growing.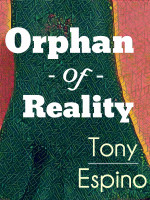 Orphan of Reality
by

Tony Espino
Hank is a sleep-deprived teenager who finds himself in another universe when he tries to take a shortcut to a party. His journey through this other world leads him to a rotting land of despair in search of an abducted baby lint ball.
Tony Espino's tag cloud