Tony Espino
Biography
I was twelve and I stole a pen from a video store. They saw me steal it, but instead of calling the cops or my parents they just charged me late fees every time I returned. If I returned it on time, then it was two days late. If it was a day late, then it was three days late. This was a problem since I loved video games and would rent them on a weekly basis. The money to do so I had to earn from chores. This was a problem for a slacker such as myself who wanted nothing more than to play Sega Genesis while listening to Dr. Dre's Chronic album. All of this because of a pen. One day I decided to punish that pen for the madness it brought into my life and write whatever nonsense popped into my head for hours and hours until I expended every last drop of ink in that pen. The nonsense still remains long after the ink is gone. And so I still write.
Where to find Tony Espino online
Books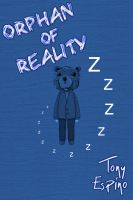 Orphan of Reality
by

Tony Espino
Hank is a sleep-deprived teenager who finds himself in another world when he tries to take a shortcut to a party. His journey through this other world leads him to a rotting land of despair in search of an abducted baby lint ball. During Hank's adventure he encounters many odd characters including: a mysterious parliament of owls and Bigfoot clones on acid.
Tony Espino's tag cloud