Robert Hahn
Biography
Robert Hahn has worked in standup comedy and comedy writing, as a voice-over actor, as an author of books and short stories, and in singing, writing and recording music (esp. Country, Ballad and Crossover). He currently resides in Southern California, where much of the action of this book takes place.
Books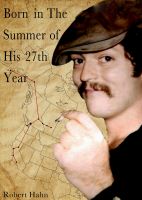 Born in the Summer of His 27th Year
by

Robert Hahn
A glimpse back in time to 1973; a time of free love, communes, and sex, drugs and rock and roll. Along with adventure filled life lessons taught by various interesting characters from a mystic to an American Indian Priest, or "Brother of The Shields", and many others.
Robert Hahn's tag cloud