Trica C. Line
Biography
About twenty-five years ago, I had to decide on a career path. My choices? Engineering or literature. I've been an engineer since then, thinking writing could keep until I retire. Obviously it couldn't. Lately my days are (very) unevenly occupied by family life with my three lovely girls, regular day-job, writing, reading, going to the gym and as of late, traveling.
Where to find Trica C. Line online
Series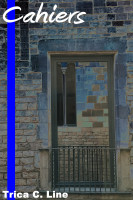 Cahiers
by

Trica C. Line
Moi, Trica, je tente de survivre dans le monde de l'après après. Sentiente récalcitrante, cheminant entre les peuples, témoin des perversions d'une terre qui se meurt, je recopie les rares livres que je trouve pour offrir à ceux qui viendront peut-être ensuite. Je m'étourdis des pensées des autres en attendant de rejoindre la mer pour m'y perdre. Mes cahiers racontent ma rencontre avec Jeremy Mac. Seigneur, milicien, chasseur, vagabond, Jeremy dirige la lignée des cousins Mac selon le code d'honneur, souvent obscur, des Mac. Je ne peux percevoir ces hommes qui m'hébergent et me font tour à tour victime, reine, courtisane, louve et femme. Terre, mer et damnation, les marques que milord Jeremy Mac a tracé dans mes paumes pulsent et diffusent une langueur lancinante au travers de mon corps. Moi qui peux soigner d'une caresse, moi que l'eau vive purifie et guérit, moi qui de toujours avance seule, je ne peux effacer la sensation de ces coupures qui me lient à lui. Oh, les cicatrices ont disparu depuis longtemps, mais le fil qui nous unit demeure. N'avons-nous pas passé un accord, le loup et moi ?
Books
Trica C. Line's tag cloud