Bob Winter
Biography
Bob was employed as a Field Service Engineer, Design Engineer, and Training Manager for a number of material handling manufacturing and service corporations for many years. From those positions Bob, along with his wife, forged careers for themselves developing training programs as consultants. With hundreds of training programs, service manuals, vehicle system designs to their credit they are now retired. Still yearning to write they continue their team work writing for fun in their first fiction series, L.S. 1.
Books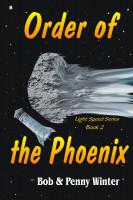 Order of the Phoenix
by

Bob Winter

&

Penny Winter
A small object far out beyond Jupiter is determined to be a rogue comet headed on a course to hit Earth. The best chance to stop it is to finish a new ship, Jupiter 2, with the new style engines and collector systems. However the engines and supporting collectors are in doubt because they were used on the Lith. And after three months of searching the fate of the Lith is still unknown.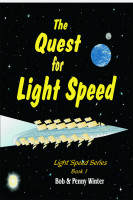 The Quest for Light Speed
by

Bob Winter

&

Penny Winter
Are light speed ships to become a reality? The authors believe they will! L.S. 1 is a compelling lighthearted look into the future when a first-ever light speed vehicle will be made. L.S. 1 is a fun voyage filled with what ifs and often edge of your seat pages as the authors explore a fictional future based loosely on current science.
Bob Winter's tag cloud