Tshegofatso Maine
"Phoka" Tshegofatso Pulane Grace Maine, mofokeng wa mahoana a botlalana, ke mosetsana wa dingwaga di le 18 yo o bonweng ka la di 31 Ferikgong 2002. Tshegofatso ke mosetsana wa mosotho yo o goletseng mo tlase ga morafe wa Batswana kwa kgaolong ya Taung, porofenseng ya Bokone Bophirima (North West). Ke ngwana wa bobedi mo go ba le bane, morwadia Malapile Solomon Maine le Boingotlo Patricia Maine. Tshegofatso o simolotse dithuto tsa gagwe kwa sekolong se se potlana sa Molemoeng a be a fetsa, a ya sekolong se se magareng sa Molehabangwe seo se sa tlholeng se dira gajaana, a fetela kwa sekolong se se magareng sa Sekate-Boijane-Mahura koo a tseneng ngwaga o le mongwe fela gone. Tshegofatso o ile a ya go tsena kwa Matlosane kwa sekolong sa Vaal Reefs Technical High koo a feleleditseng le go falola materiki a gagwe teng.Tshegofatso o simolotse go kwala a sale monnye kwa sekolong, maboko le dikgangkhutswe, a kwala ka loleme la setswana ka ane a le antse letseleng. Tshegofatso ke mosetsana yo o nang le maikemisetso thata ka botshelo le bokamoso jwa gagwe. Ke motho yo o ratang bodiragatsi mo seraleng, poko le go neelana ka puo. "Ke motlotlo gore gompieno jaana ke be ke ipela ka loleme lwa ga mme ka ele lobebe lwa gaetsho. Ke letlhogonolo ka go sengwe ke ke kgonang go ntshetsang maikutlo aka mo go sona le fa go se bonolo e leng pene le pampiri". Tshegofatso o fentse dikgaisano tsa poko ya "100 Echoes of Madiba's Century Multilingual Anthology Book". O ikaeletse go tsweletsa neo ya gagwe ya bokwadi le go godisa serodumo sa puo ya Setswana go ya go ile.
More about Tshegofatso Maine
About what inspires me to write, and my writing.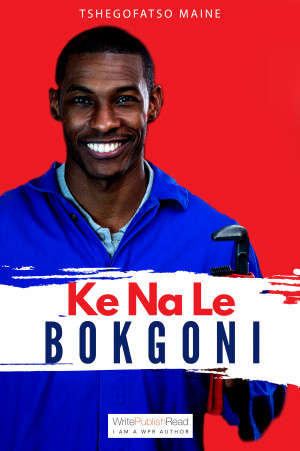 Ke Na Le Bokgoni
by

Tshegofatso Maine
Rotlhe re a itse gore Ramasedi ga a re abela ditlhaloganyo ka go lekana e bile ga re tshwane re le batho.Re kopana le moeka wa dingwana di le someamabedi tharo yo e saleng a tsena sekolo kgale fela ga a bone phetogo kgotsa pharologano ya dipholo ngwaga le ngwaga, moeka o dula a itlhophere a ipotsa gore totatota ene o sekisetswang mo lefatsheng.