Colleen Turbet Williams
Biography
Colleen Williams born Turbet. My father Charles Turbet, an Australian served in WW! and then studied Veterinary Science. He accepted the position of Veterinary officer in the Fiji Islands in 1923. My sister was born in Suva, Fiji in 1924, as I was in 1931. I attended boarding school in Christchurch, New Zealand and then spent 2 years in Ceylon-Sri Lanka- where my father had been posted.
I the trained as a nurse at Auckland Hospital, NZ before marrying Bill Williams.
I have three children and 7 grandchildren. I have written 3 books about my life as I realised that my grandchildren had no idea about how we lived, grew up and were educated.
I have just finished the story of my father Charles Turbet and called it The Colonial Vet. He was a remarkable man and thought ahead of his time but retained the courtesies of his generation. He would have been enormously proud of the achievements of his great grandchildren, He and my mother Laura were adventurous, intelligent and interesting and they have followed them.
Books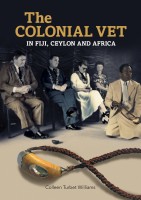 The Colonial Vet
by

Colleen Turbet Williams
'The Colonial Vet in Fiji, Ceylon and Africa' is the colourful story of pioneering Australian veterinary surgeon, Charles Turbet, who after serving in WW1, spent most of his working life in Fiji, Ceylon (Sri Lanka) and Nyasaland (Malawi) as a government vet. An adventurous and intellectually curious man, Turbet made lasting impacts on stock breeding and animal husbandry everywhere he worked.
Colleen Turbet Williams' tag cloud