Daniel Mettler
Biography
I grew up in the jungles of Indonesia, as a trilingual missionary kid. Turning twelve, I started programming which was the foundation upon which I built my company 2sic Internet Solutions in 1999. Based on my experiences in projects, especially on Microsoft SharePoint projects, mixed with the multi-cultural comic experiences of my childhood (manga and belgian type comics) lead me to develop a new type of training instrument: the TurboComic.
Where to find Daniel Mettler online
Books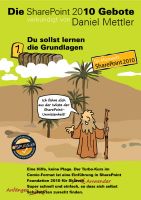 Die SharePoint 2010 Gebote - 1. Du sollst lernen die Grundlagen
By
Daniel Mettler
Price: Free! Words: 40. Language: German. Published: December 21, 2010. Category: Nonfiction
Die schnellste Methode um SharePoint 2010 kennen zu lernen. Das Comic hilft SharePoint Anfängern beim Einstieg in die Bedienung von SharePoint - vom Arbeiten mit Dokumenten, Bildern, Kontakten, Kalendern und auch fortgeschritteneren Themen wie die Anbindung an Outlook.
Daniel Mettler's tag cloud