V Arjunan
Biography
Arjunan Velu; M.Sc, M.Phil, M.Ed, Ph.D, P.G.D.C.A, Educationist; b March 15, 1964 Thanjavur, Educ. Madras Univ & Pondicherry Univ; Associate Prof. of Chemistry 1988-till date, Govt. of Pondicherry; Publs–More than 76 papers published in various reputed International and National journals; Guided 4 Ph.D scholars; 7 Ph.D. scholars doing research under his guidance; His research areas include Materials Science, High temperature superconductors, Fiber Optics, Environmental Chemistry and Quantum Chemical Calculations on biological molecules and superconductors; Address (Res) MIG D-26,Suthanthira Ponvizha Nagar, Pondicherry 605 011. (off) Associate Prof. of Chemistry, Kanchi Mamunivar Centre for Post-Graduate Studies, Pondicherry 605 008.
Books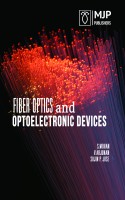 Fiber Optics and Optoelectronic Devices
by

S Mohan

,

V Arjunan

, &

Sujin.p Jose
This book deals with the fundamentals of light, fibers and fiber optics along with various types of fibers, lasers including the recent advances in lasers. Since optical communications is the current interest of this century, optical sources, detectors, optoelectronic modulators, optical amplifiers, fiber optic network components and optoelectronic integrated circuits are discussed extensively.
V Arjunan's tag cloud