Jay & Annie Adkins
Publisher info
Jay and Annie started their real estate career by simply renting out their personal home when they purchased a bigger home for their family in 2004. While building his experiences with the real estate market Jay decided he would like to help others meet the real estate needs as well, so he decided to become a real estate agent and has been a successful hard-working one for over 8 years. While working with buyers and sellers Jay saw how important it was to offer non-conventional financing for those who had less than perfect credit and for those that typical banks would not finance their homes. Based on this information Jay and Annie both went to classes and obtained their mortgage licenses. Several years and countless experiences later, Jay and another business partner opened their own mortgage company to help in other ways with the home buying process. Throughout the years Jay and Annie have met several people interested in getting into the real estate investment business but didn't know where to start, so together with some of those people, they created multiple LLCs and have developed a thriving real estate business with a total of 30+ houses that are either rented, a rent to own property or already lease optioned to potential home buyers. In addition to buying fixing and selling multiple houses per month they have passionately mentored multiple people assisting them in building real estate portfolios that are in the millions. They also employ several people in the local community to rehab the homes that they and the people they mentoring purchase.
Where to find Jay & Annie Adkins online
Books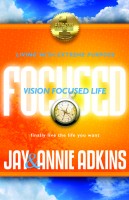 Vision Focused Life: Living With Extreme Purpose
by

Jay & Annie Adkins
This book is full of real life stories of overcoming obstacles, fears and naysayers in business and in life, and moving on to be the best person you can be. These are true stories of people that not only overcame incredible odds, but are achieving things great things as well.
Jay & Annie Adkins' tag cloud