Victor Nor
Biography
I am a shitlord genius with the gift of smug and the ability to conjure up stories that have the power to offend, shock, arouse, and repulse those with the slightest hint of trigger happy emotions underneath their thin skins. If you're a normie with exactly two brain cells to rub together you may want to research what freedom of speech actually means before you call for a boycott of my magnificently worded fiction. Freedom of speech should be defended whether that speech is triggering you from your safe space or speech that doesn't cause you to blink an eyelash. One more thing, I am a superior intellect in an age of uninformed masked rioters obeying globalist masters and mainstream media robots who design their newscast to whip up hatred for those of us who only want the freedom to make whatever statements we so desire. The electronic plantation has enough room for all of us.
Where to find Victor Nor online
Books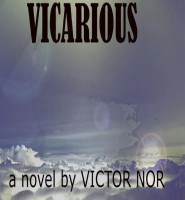 Vicarious
by

Victor Nor
Vicarious is a book about drug and sex addicted psychiatrist named Astro Zeal who finds that his real mission is life is to be abducted by aliens.
Victor Nor's tag cloud