V.K. Fourstone
Biography
Under the name of VK Fourstone which is a pseudonym writes and creates his books Vasily Klyukin.

Vasily Klyukin is a writer, a designer of futuristic yachts and skyscrapers, a former banker who decided to give up business to devote his life to the creativity. Since 2010, Vasily has been engaged in architecture and design. He had released his architectural album «Designing Legends».

Their design concepts became well-known after the infamous amfAR charity purchase he made two years ago, buying a $1.5 million ticket to journey into space alongside Leonardo DiCaprio. Vasily's art includes skyscrapers in the shape of Nika of Samothrace and Venus Milos, a hospital in the shape of a sailing-ship, a futuristic yacht-transformer Monaco 2050 which has an upper deck transforming into a private plane.

His life is active: he jumped from the 200-meter-high television tower in Auckland; he went to dangerous Venezuela to swim in the highest waterfall Angel Falls; he traveled across jungles of America and he conquered the North Pole.

Klyukin plans to use his experience and implement a development project in Monaco on the basis of his own designs. He lives in Monaco. Has three children. Married.
Books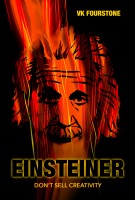 Einsteiner
by

V.K. Fourstone
The creator of the "Einsteiner", a bio-generated hardware working on human creative, has disappeared while the creativity has become the most valuable resource on earth. As for Isaac Leroy this by all means is the only way to get the sum needed for his sister's surgery.However,incidentally not only does he lose this chance,but he also becomes a reckless criminal,whose goal is to stop that process.
V.K. Fourstone's tag cloud