V. O. Diedlaff
Biography
V.O. Diedlaff is a journalist nanny, working tirelessly to educate the children in her care and the public at large about the dangers of fake news and other social ills. Though her efforts seem wasted on the ungracious brats, at least the job covers her student loan debt. Diedlaff is hopeful that her new book will allow her to switch jobs and pay off her loan. Oh, yeah, she also hopes her book will make a difference in Americans' understanding and repairing its damaged democracy.
Where to find V. O. Diedlaff online
Books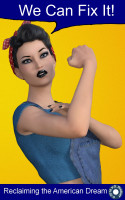 We Can Fix It: Reclaiming the American Dream
by

V. O. Diedlaff
Our damaged democracy threatens Americans' welfare, their environment and even their democracy. This quick-reading, yet enlightening, book tells how American democracy broke, explains our current peril, and shows how we can restore American democracy to our people.
V. O. Diedlaff's tag cloud