Valentina LaScala
Biography
In my first life I saved myself from Dad's upbringing and saved others from similar problems as a psychotherapist. I taught students not eager to learn and wrote books only my colleagues read. But I had the '68 freedom, energy and hope.
In my second life I enjoy love and friendship, taking care of 60-year-old girls, singing operas, having fun in any possible way and writing books and stories that everyone should read.
Books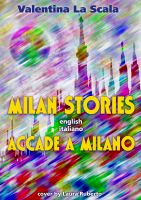 Milan Stories / Accade a Milano
by

Valentina LaScala
Il I racconto concerne un ufficiale e la sua fabbrica nella II guerra mondiale. Il II parla di un musicista di strada. Il III è di fantapolitica sull'immigrazione. Tutti si svolgono a Milano. The stories concern (1) an official and his factory in WW2, (2) tales of a street musician, (3) political science fiction on immigration. Milan is the background.
Valentina LaScala's tag cloud