Valerie Barnes
Born in London, Valerie Barnes went to Geneva in 1948 to work for the newly-formed United Nations and eventually became a simultaneous interpreter working in English, French, Spanish and Russian. She travelled the world first-class, stayed in five-star hotels, ate at the best restaurants, drank the best wines, and rubbed shoulders with prime ministers, presidents, even princes and kings. She was kidnapped in Cairo and wooed by an African president who wanted her to become his fourteenth wife.
But even champagne and caviar lost their charm after a while. Tired of airports and VIP treatment, designer clothes, luxury hotels, lavish cocktail parties and official dinners, Valerie fell in love with an Australian sailor in 1975 and discovered true happiness sailing on a 22-foot yacht around the Canary Islands, where the waves rose as high as houses. Later in the Pacific, she found herself wearing damp and creased clothes, having a bucket of seawater for a shower, being rationed to one glass of fresh water per day to brush her teeth, and having to shave the whiskers off the bread before turning it into toast for breakfast. But even when their boat was like a table-tennis ball bobbing up and down in the middle of the vast ocean, Valerie felt safe and secure when tucked into her sleeping bag on her bunk at night... once the strip of wood had been nailed into place to make sure she would still be there in the morning.

In 2000, Valerie's first book, Conference Interpreting: Principles and Practice for Australian University Language Departments, was published by Crawford House under her professional name, Valerie Taylor-Bouladon. This is now available from Amazon in print and as an e-book.

In 2004, her first book of memoirs, A Foreign Affair: A Passionate Life in Four Languages, was published by Random House (Australia). It is now also available from Amazon in print and as an e-book.
In 2005, her story, In Praise of Coffee, was included in an anthology (Take Me With You: Tales of Long Distance Love) published by Random House (Australia) in support of Oxfam.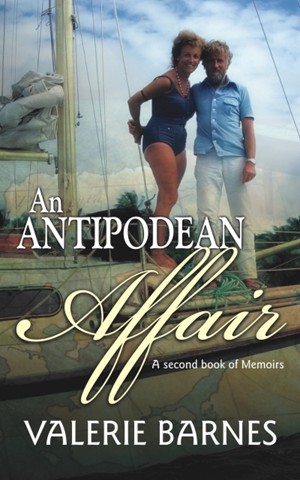 An Antipodean Affair
by

Valerie Barnes
Working as a simultaneous conference interpreter with United Nations, Valerie Barnes travelled to India, Iran, Nigeria, Zambia and Zaire. She also met and fell in love with Peter, an Australian delegate who had decided to sail single-handed in a 22-foot yacht from England to Australia to separate his past from his future.