Valerie Sheppard
Biography
Val Sheppard had never written a poem or even a shopping list prior to her debut novel Is Anyone Listening?
The youngest daughter in a family of eight children, Val was raised in Wiltshire, the county struggling for recognition between the glorious Cotswolds and the cheeriness of Somerset.
Married for twenty-five years to Dave and proud to be a grandmother of five and beloved auntie to so many that she has stopped counting. Val works full-time as a PA, enjoys racquet sports, swimming and watching ice hockey in her spare time. She loves to be in a warm climate so is thankful to have friends who live in the Canary Islands.
Books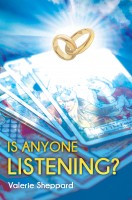 Is Anyone Listening?
by

Valerie Sheppard
When you are in front of your entire family and friends getting married to a man you want out of your life, - what do you do? What do you say? Out of the blue, when Angela has realised things are not working out between her and Jason, she finds herself married to him.