Valerie Godfrey
I was born in the village of Shadoxhurst, which is near Ashford in Kent, England.
I have three children, who are all grown and gone. I read to them from an early age
and I hope I've passed on to them the love of books and reading.

I've always had a love of books and read from a very early age. I do enjoy fiction but mainly biographies and autobiographies. I've come to writing at a late age, when most people have put their feet up. I guess I've always had a story in me, but the time never seemed right to set it down. I worked with children in schools as a Teaching Assistant, mainly with SEN children, I've always enjoyed reading aloud to children, they get so caught up in the story, as I do.
I divide my time between the Charente in France and Hay-on-Wye in Wales.

I've absolutely loved writing the Stiggy stories, and hope you'll read them to your children and grandchildren.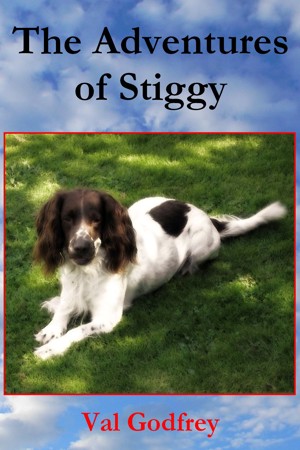 The Adventures of Stiggy
by

Valerie Godfrey
Stiggy is a brown and white springer spaniel, with a brown wet nose, long silky ears and a mop of unruly brown curls on top of his head. These stories tell the adventures of Stiggy and his friends through the four seasons. Suitable for children 2 years and upwards.