Vanessa Bright, L.Ac., L.P.
Biography
I am a psychoanalyst in private practice in New York, NY. I trained at the Institute for Expressive Analysis, and prior to this, at the Pacific College of Oriental Medicine. I published a study guide to help those preparing for the New York State LP exam and I welcome responses, insights, and just plain hellos from all my fellow candidates!
Where to find Vanessa Bright, L.Ac., L.P. online
Books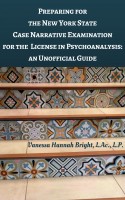 Preparing for the New York State Case Narrative Examination for the License in Psychoanalysis: An Unofficial Guide
by

Vanessa Bright, L.Ac., L.P.
This study guide is based on my own experience of preparing for and taking the LP Case Narrative exam in New York State. In it I offer: ways to understand and answer the exam questions, suggestions on choosing your cases, study strategies, exam strategies, description of the actual testing environment, and more. This is the guide I wished I had when studying for it myself.
Vanessa Bright, L.Ac., L.P.'s tag cloud