Paul J Middleton
Biography
Hello, whoever's reading this, and a very good day to you. My name is Paul J Middleton and I am the author of the Lokkr Chronicles.

A little about myself: I'm married with two children, Jack and Emily and live in Battle (1066 country), in England. I love this part of England, enjoying long walks in the countryside with my dogs, (as you can see from the profile picture), and exploring the local area, where I'm forever discovering new delights and curious places I've never seen before. I take a keen interest in land conservation, and am a member of the TCV, The Conservation Volunteers. I'm also a member of the writers group, Shorelink, based in Hastings, and have been encourage by the recent success of the Chair person, Sally Patricia Gardener, the author of Lillian's Story, amongst notable others, which you can acquire from Amazon. Lillian's story is a fantastic read, and Sally is a delightful and lovely person to know, and deserves the new found success of her books.

My day job; well after acquiring 30 years construction experience, I have finally gone it alone, and formed my own company, offering planning solutions, through pre-construction, design & procurement, then onto on site delivery. As you can imagine, this keeps me extremely busy. I'm still surprised how I managed to ever find the time to write these two novels. What with job and family commitments, but managed, I did. I suppose it's as my Nun use to say: Where there's a will, there's a way.

So how did the Lokkr Chronicles come into being? Well, it began as an idea many many years ago, when I was still at school in fact. My English teacher, Mr Hewitt, one rainy miserable afternoon, posed the question to the class: If a tree fell in a forest, but there was no one around to hear it fall, will it still have made a sound? Well it woke many of us from our lethargy, and we debated the question, turning it over, pulling it apart, as the threads of reality were discussed. Do we all see and hear the same? Is the colour red, the same colour for everyone else; or is it different? After all, what we perceive of the world is put together by our own individual minds. And this line of thought opened the door to more outlandish suppositions. How do we know the person next to us is actually there? After all, they are just made of data assimilated by our brain, and if that is so, what then is Real?

That lesson, and the profound debate on reality that took place, left its mark on me, and it found life again, years later, when I read the children's book, Through the Looking Glass by Lewis Carroll. It is a fantastic romp, where Alice steps into a mirror, and is transported into an improbable alternative world. But it is her encounter with the sleeping Red King that enthralled me. Tweedledee tells Alice that the Red King is actually dreaming about her, and if he woke up, then Alice would go out, bang, like a candle. Tweedledum then tells her, what I believe is an extremely philosophical observation, that as she is just a dream of the Red King, then she is not actually real! And then, at the end of the book, after Alice wakes, she postulates who it was that dreamed the whole adventure up. Was it her, or was it the Red King. And the last sentence asks: Which do you think it was?

This children's story had quite an impact on me, bringing to life again the debate I'd enjoyed in the English lessons so many years before. And as I read the finishing poem and put the book down, I closed my eyes, and dreamt, and when I woke, the Lokkr Chronicles were born.

I have wrapped this question, what indeed is Real, in the world of 1975, the time I was at school, but history as we know it, alters. It is a tale with high octane drama, a dramatic fight for survival, with moments of horror, suspended over a mystery, where reality is not what it seems, and the very fabric of time and space hangs in the balance. The tale takes place over two novels. Volume 1- Planet Storm starts as a fantasy crime thriller, where one of the main characters, Aaron O'Connor, has his children abducted by a sinister shadow from his nightmares, echoing the disappearance of his beloved wife, Ecila, four years ago. He becomes the primary suspect, pursued relentlessly by the embittered Detective Inspector Yvonne Marnak, who has become so obsessed, that she disobeys a direct order to drop the case, and follows her quarry instead into the growing storm that threatens the destruction of mankind. Volume 2 - The Amulet of Dagon, is a continuation of the tales primary theme, but is set in a world now at the end of time, where only a few appeared to have survived. Our main protagonists though, begin to question their reality, it just doesn't feel right. Volume 2, completes the tale, and like, Through The Looking Glass, leaves the reader with a question?

I am currently working on a third volume, Memories of a Dark Star, which is set in the year the comet P Shoemaker Levy 9 slammed into Jupiter, and takes place in the United States of America. Although a separate tale, it is still a continuation of the original theme. It revisits some of the core characters, but here, history has not altered, however, the connections to their past is still very prevalent, emerging as new memories. This is at total odds with the reality of the day, until strange things start happening, and the now older protagonists are once again drawn together. I hope to complete this novel in 2014.

Anyway, that's the end of my profile and the intro to myself and the Lokkr Chronicles. I hope you enjoy the Lokkr Chronicles as match as I enjoyed writing them.

Best wishes and happy reading.

Paul J Middleton
Books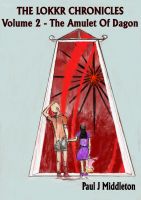 The Lokkr Chronicles, Volume 2 The Amulet Of Dagon
(5.00 from 1 review)
Having miraculously survived the Planet Storm, Aaron, Jack, Trilby and Marnak awake and emerge from their shelter into a bleak and ravaged wasteland. They are overwhelmed by the devastation, but what is even more disquieting, is the new heavenly body that fills the eastern sky. For it is the Dark Star of Aaron's dreams, the repeating nightmare, where he sees his lost beloved wife, Ecila, fall...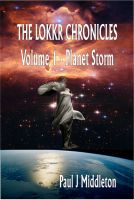 The Lokkr Chronicles, Volume 1 Planet Storm
(5.00 from 4 reviews)
England, 1975, and a storm of biblical proportions is coming. But Aaron O'Connor has more pressing concerns. His children have been abducted. A shadow, from his nightmares, has taken them. But who will believe him. Definitely not the embittered Detective Inspector, Yvonne Marnak. But there is another, in pursuit. The demon Belial. It has a gift to bestow, one that has been sent down the ages..
Paul J Middleton's tag cloud