Vaughn Sherman
Biography
Vaughn Sherman's career as a fisheries biologist was cut short when he was recruited by the Central Intelligence Agency. He served long assignments in the Far East and Europe before doing a short tour in Vietnam. After taking early retirement Vaughn joined in numerous community activities, most involving the governance of non-profit agencies and community colleges. In addition to Sasha's Plotkin's Deceit, he has written the memoir of a northwest mariner titled An Uncommon Life (1988). He has also published three books dealing with the management of non-profits. You can find Vaughn on the Web at www.vaughnsherman.com.
Where to buy in print
Books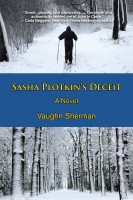 Sasha Plotkin's Deceit
by

Vaughn Sherman
In 1969 CIA officer Chris Holbeck took part in a failed attempt to engineer the defection of Sasha Plotkin, a KGB officer who may be able to identify a Soviet mole in the CIA. Three years later Chris is set to try again, even though he now despises his Soviet counterpart. His job, his marriage, and his life are at stake as Chris embarks on the most difficult mission of his career.
Vaughn Sherman's tag cloud