D.M. Twigg
Biography
I have been hooked on science fiction and fantasy ever since my great aunt gave me the book Ender's Game from her bookshop when I was eight. I spent my life an unrepentant geek reading science fiction, fantasy and comic books and gaming with my friends. I got my start writing for the fantasy pop-culture website Critical-Hits. I currently work with Crafty Games on the ongoing Mistborn Adventure Game. Among other projects there, I brought comic books to life writing for the award-winning Marvel Heroic Roleplaying. By day, I'm an attorney licensed in Pennsylvania and Maryland where I focus on Elder Law, Estate Planning and Administration. I live in Westminster, Maryland with my wife and our dog.
Where to find D.M. Twigg online
Books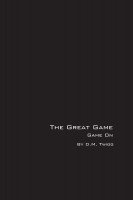 The Great Game: Game On
by

D.M. Twigg
(5.00 from 1 review)
Goblins, humans, and a host of familiar and unique fantasy cultures clash in a world where their conflict is only a stage in a great game as strange as it is surprising. Game On is the first in a series of short stories forming a serial novel written by D.M. Twigg. Each stands as a short story and alongside its companion tales weaves a complex tapestry to be enjoyed in its entirety.
D.M. Twigg's tag cloud