Vernon Goddard
Publisher info
I was born and bred in Southern Africa, as was my father. My English grandfather came to fight in the Boer War, and stayed in Africa with his Scottish bride. He became a rancher, carving out his piece of heaven in this vast and untamed land. My mother traces her ancestry to the first 1820 English settlers who landed in Algoa Bay. Thus am I a proud native of this soil, steeped in its mystery and magnificence.
I am also a traveller, constantly seeking new horizons, quickly becoming bored with a hum-drum and orderly life style; that is why I rebelled against practicing the law I learned from that hallowed edifice, the University of Cape Town.
I breathe, eat, sleep, meditate and drink in the sights, sounds, scents and spiritual essence of this, my beloved Africa. Extended sojourns to settle in USA, UK and Australia have inevitably convinced me to return home, where my whole being resonates in harmony with this turbulent land.
Yet I must admit to enrichment of both body and soul amid the nature and natives wherever I have travelled.
Emotion tends to rule over reason a little too often in my daily life, but I consider this an essential ingredient to be able to express and place my thoughts onto the blank white screen before me.
My attitude is one of profound gratitude for being so richly blessed; for being afforded the privilege of experiencing life in all its perverse glory; to revel in the playgrounds of so-called success and failure; to survive and thrive; and to seek again new challenges to whet my appetite for more of life's rich resources.
How else can one write with heart, allowing the mind to express those feelings so profoundly learned through one's own experiences?
A youth and career enjoyed on cattle and game ranches in Matabeleland, Zimbabwe, I am most joyful when surrounded, nay, immersed, in the veld and its profusion of flora and fauna, especially Africa's unique wildlife, and enveloped by Mother Nature's glorious resilience to survive and display itself anew season after incredible season. Nature is both soft and gentle, and incredibly cruel and harsh, all in the self same moment.
I am an excellent cattleman to boot, preferring the majestic zebu breeds indigenous to the warm climes of Africa and Asia to those more stolid beasts from colder European lands.
Times lived in the cities of Bulawayo, Harare, Gaborone, Francistown, Johannesburg, and Cape Town suit my intellect and motivate my mind to seek enlightenment and new horizons, but I tend to shy away from the proximity of having close friends. City life is stimulating and interesting; mankind amazes me with its depth of diversity. I am an observer of people, not a participator; hence my passion for journalism, pursued for as long as I can remember. As with nature, mankind displays deep nurturing instincts alongside primordial savagery, all in one infinite, holy instant. It is a message my novels convey.
Too long in the cities, and I hanker for the bush, the African veld; yet when enveloped in the embrace of nature, I soon ache for the companionship of my fellows. It is a conundrum which has had me travelling to-and-fro all of my life.
As I have aged and grown more accepting, (my family may mildly disagree) I have learned that a meshing of the two desires within me restores the soul's harmony of balance so required for the turbulent waters of mind and spirit to be stilled and run deep. One without the other is not an option. I am certain that, deep down, all humanity responds the same; some to the ocean, some to the land, but all to re-engage with kith and kin.
And so, in my latter years, when others retire to relax, I begin the splendid task of writing novels, and eagerly seek a new horizon.
I write from a basic instinct within that leads the way, no matter how I argue; that is how it is, and so must be, and I surprise myself with the content of my heart and mind upon the pages. My books are a double edged sword; for those who wish to read a light, entertaining novel, there is a story to be told; for those who seek deeper awareness, there is a spirituality hidden within. Seek it, look for the incongruities, and you shall surely enjoy the enlightenment; you are free to disagree should you interpret differently.
I have oft been told that I do not allow the truth to get in the way of a good story. Therefore, novels it must be, and I begin with a trilogy.................
Books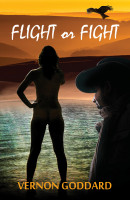 FLIGHT or FIGHT
by

Vernon Goddard
Price:
$4.99 USD.
Words: 73,940.
Language: English.
Published: January 31, 2018
. Categories:
Fiction
»
Adventure
»
Action
"Destiny requires us all to be tested in the fires of life, to be subjected to the karma of lifetimes past and present, to be moulded by learning from the adventures of this existence, and to be called upon to become one of the intimate raindrops, one of the millions of characters that inhabit the lands and seas of this, our solitary blue planet."
Vernon Goddard's tag cloud