Franklin Medhurst
Biography
Franklin Medhurst grew up in Somerset, UK and at the outbreak of World War II, at the age of nineteen, took a day off work to volunteer for the fighting forces. He joined the RAF and trained as a Wireless Operator/Air Gunner (WOP/AG). Over the course of the war he flew on operations in Swordfish, Catalina and Liberator aircraft and travelled to four continents. Following a U-boat sinking by his crew, he was awarded the Distinguished Flying Cross (D.F.C.). After the war he trained and practiced as an architect and planner in the UK. He was also Senior Lecturer in Town Planning at the University of Manchester before becoming Director of the Teesside Survey and Plan in the 1960s. Later he continued his work as an architect and planner. After that, he studied global politics and is concerned for the future that the world is creating for itself - a theme which will be addressed in his next book.
Books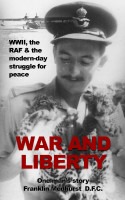 War and Liberty: One man's story
by

Franklin Medhurst
I flew in the UK's RAF in World War ll with Coastal Command, in Swordfish, Catalina and Liberator aircraft. We patrolled searching for U-boats and protected civilian ships, engaging the enemy in combat. Many of my comrades died. This book relates the various escapades over six years of war against three enemy nations, and travel to four continents with the three squadrons in which I served.
Franklin Medhurst's tag cloud