Victoria Kilbury
In March of 2013 Victoria's book, Disenchanted: One Woman's Journey for Independence from the Kingdom of Saudi Arabia was released. The book has been honored as a 2013 USA Best Book Award "Finalist" in the "Women's Issues" category.
Victoria and Nabila, the subject of the book, currently tour the country promoting the book and engaging the audience in conversations regarding the plight of women in the Middle East.
Residing in Las Vegas, she wrote a monthly column on educational issues and programs for La Voce, an independent newspaper publication for six years.
Victoria writes scholarly articles based upon her co- research study of first year teachers' perceptions of components that advance and inhibit their growth, commitment to the field, and confidence to persist in the field.
She is an adjunct faculty member for Northcentral University in Prescott, Arizona scoring doctoral exams. She previously taught graduate students at Northcentral University and the University of Nevada Las Vegas for six years. She served 31 years in public education most notably as a school principal, Director of Elementary Education, Director of Teaching and Learning, and a Curriculum and Instructional Technology Director,. She served fourteen years as an elementary, middle school, and a junior high principal. In 1994, Victoria was selected by the Ohio Elementary Principals Association as "Principal of the Year". She was subsequently recognized as a National Distinguished Principal by the Secretary of Education for the United States Department of Education.
As an avid volunteer Victoria participates in many organizations serving the Las Vegas valley. She has been a member of PDK, the renown professional organization in education, for over 30 years. She is now serving on the Governing Board of the Las Vegas PDK chapter as the Past -President and Research Representative. The Las Vegas Chapter of PDK awarded her the coveted Service Key in 2005.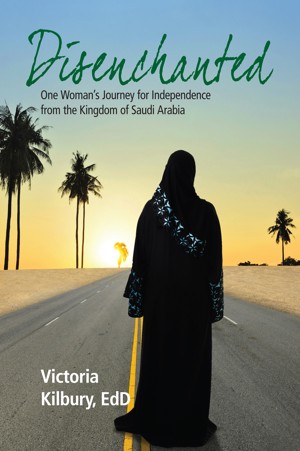 Disenchanted: One Woman's Journey for Independence from the Kingdom of Saudi Arabia
by

Victoria Kilbury
DENIED BASIC RIGHTS: As a child in Saudi Arabia, Nabila knew no other life than that in which she lived, a society where women had no rights. Females could not attend school, pursue careers unless sanctioned by the government, drive cars, or choose their husbands. From birth to marriage, women in Nabila's culture remained under the control of males: a father, a brother, or a husband.