Victor Garlock
Biography
Victor P. Garlock, Ph.D. has taught psychology and education courses at a community college, a liberal arts college, a private vocational institute, and a maximum security prison. Among many other college-level courses, he has taught classes on sleep, dreams, hypnosis and meditation. He earned his doctorate from Cornell University where he was also a researcher in the department of psychology and the graduate school of education. Dr. Garlock has conducted enrichment programs for elementary, middle and high school students on the topics of sleep and dreams. He has also led in-service workshops on hypnosis and stress management for hospitals, community mental health centers and private corporations. As a psychotherapist Dr. Garlock has utilized hypnotherapy and dream interpretation in this work for over 30 years. As a consulting hypnotist Dr. Garlock has worked with professionals in the fields of medicine, dentistry, sports and law enforcement among others.
Where to find Victor Garlock online
Books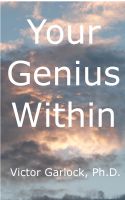 Your Genius Within: Understanding Sleep, Dream Interpretation and Learning Self-Hypnosis
by

Victor Garlock
This book is about finding and empowering your genius within. It's about the power of your inner mind to greatly expand your understanding of yourself and the people around you. You will enter the worlds of hypnosis, sleep and dreams, where you will learn how much of your mental power remains unused and locked inside.
Victor Garlock's tag cloud