Victoria Rahn
Biography
I was born and raised in the Midwest and currently live in Wisconsin. With a law degree on top of an undergraduate degree in history, I have spent a lot of time researching and writing. Naturally, my hobbies include writing, especially poems, reading and just generally being as creative and artsy as I can when I have a chance. I am a member of the Wisconsin Evangelical Lutheran Synod.
Books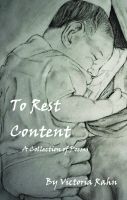 To Rest Content: A Collection of Poems
By
Victoria Rahn
Price:
$2.99 USD.
Words: 11,820. Language: English. Published: July 1, 2012. Category: Fiction
You will find poetry to explore the depths of an individual's tumultuous soul, poetry to examine nature, literature, and life, and perhaps poetry to help discover a love of poetry.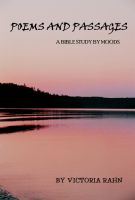 Poems and Passages: A Bible Study by Moods
By
Victoria Rahn
Price:
$1.99 USD.
Words: 62,520. Language: English. Published: April 18, 2011. Category: Nonfiction
Save time on intensive Bible searches by using this handy Bible reference book as a starting guide for understanding your own moods and needs.
Victoria Rahn's tag cloud