Vincent Patrick
Biography
Vincent Patrick has a work background appropriate for a novelist's book jacket. Born in the Bronx, New York, he finished both high school and engineering college at night and has had a remarkable range of jobs. He's been a door-to-door Bible salesman, bartender, restaurant owner, Standard-bred Pacer owner, vice-president of an engineering consulting firm, teacher in a community college (writing fiction in the off-hours from his late teens.) After the publication of his first novel, The Pope of Greenwich village, he wrote screenplays for many years, including the script for the movie of Pope of Greenwich Village (with Micky Rouark and Eric Roberts) and for the movie of his second novel, Family Business (Sean Connery, Dustin Hoffman and Mathew Broderick, Directed by Sidney Lumet.) He says that he wrote SMOKE SCREEN as 'a thriller with an emphasis on character, including the villain's.'
Where to buy in print
Books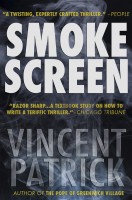 Smoke Screen
by

Vincent Patrick
When a renegade Cuban doctor smuggles a devastating virus into the U.S. a sophisticated espionage game begins. The CIA Director devises a huge deception - a smoke screen - to hide illegal countermeasures. Recruited is the odd-couple team of an ex-New York City detective and an easy going (uninformed) jewel thief. When all goes wrong they find themselves hunted by rogue CIA agents as time runs out.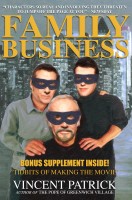 Family Business
by

Vincent Patrick
"Vito, somewhere your values got screwy. When did you get it in your head that it's such a terrible thing to be a thief?" At 68, Grandpa Jessie is a brawling, fornicating schemer - a thief, and proud of it. His admiring grandson, Adam, whiz kid MIT dropout, has just planned a million dollar ripoff. Now they have to convince Adam's dad, Vito, to leave the straight life for a little Family Business.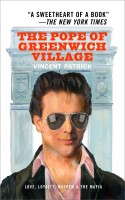 The Pope of Greenwich Village
by

Vincent Patrick
Paulie, an outrageous little hustler who thinks big and went into hock to shylocks to buy a racehorse. Barney, a half-blind safecracker looking for his last score to insure the future of his retarded son. Charlie, who has Mafia-enforced alimony payments, two shylocks he needs to pay weekly, the worst run of losing horses ever, and a dream of owning his own restaurant. Three dreamers team up.
Vincent Patrick's tag cloud