Vaughn Blake
Biography
Timeless, tortured adventurer.
Grateful for the onus of ideas,
trapped far out out of place,
taking care wending my way,
sharing the nuance of reality.
Doing my part,
to fuel the fire
by giving back
fragments of dream.
Books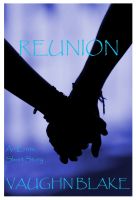 Reunion
by

Vaughn Blake
Samantha and Nathaniel met late in highschool, and fell in love during their college years. Time and fate saw fit to separate them, but now that they are older and wiser... They are drawn to each other again. Both breathing life onto the still smoldering ember of lost love.
Vaughn Blake's tag cloud