William Claypool
Biography
William Claypool attended the University of Notre Dame and has taught at the University of Illinois at Chicago, the University of Pittsburgh, and the University of Pennsylvania. He and his wife live outside of Philadelphia. During portions of his past, he was a naval medical officer and a research biologist. The Cocaspore Project is his second novel. His first novel, Windfall Nights, was published in 2011.
Books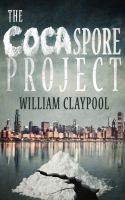 The Cocaspore Project
by

William Claypool
In The Cocaspore Project, Paul Sloan is an academic botanist who has invented a technology to destroy the world's source of cocaine. Sloan's technology is nearly operational when its existence becomes known to a ruthless drug lord who is committed to stopping him. Fortunately for Sloan, an unseen protector is as committed as his would-be executioners, and he has been given a chance to survive.
William Claypool's tag cloud