Wesley Foster
Biography
A husband and father of three great kids, I enjoy Washington and all the beauty herein. I've been writing for more than a dozen years, though Gunther's Daughter is the first real published novel I've completed. It's been great fun, and I've enjoyed the many paths the story has traveled down. Writing is not a chore, at least from my point of view. When the literary 'fluids are flowing' the characters take on a life of their own, and I find myself to be the 'fly on the wall' that is only there to document the scene unfolding before me. It is God's gift to me, to be sure, and I enjoy it immensely.
Where to find Wesley Foster online
Books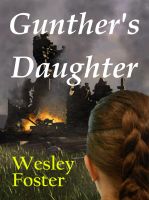 Gunther's Daughter
by

Wesley Foster
The only child of the most influential man outside of the King's court, Gabriel watches her father leave to answer King Henry VIII's summons shortly before a group of brigands sacks the castle and kills her mother. With only a single servant left, she sets out to catch up with her father, hoping he can make everything right once more. Then she discovers how big the world is...
Wesley Foster's tag cloud