Jese Temo
Biography
In the days leading up to my seventeenth birthday my mum asked me what I would like for my birthday present. I told her that I wanted one whole day by myself in my room. I come from a working class family and my dad always gives me a hard time if he finds me reading. Reading or anything to do with books in Pacific Island cultures is unusual because we are a verbal rather than written culture. To have a son who would rather be in the house reading and not out there weeding in the garden or playing rugby, seemed very abnormal. Reading for me was something that was done in secret. I read under the covers at night or when my dad was out of the house. This going behind my father's back to read also had the added effect of fuelling my rebellious nature. Reading was an exercise in rebellion and from a very young age literature was associated with rebellion. So if you find this book rebellious please forgive me, this may well be the only literary voice I know.
Books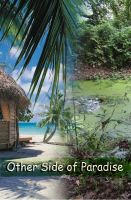 Other side of paradise
by

Jese Temo
Fiji is paradise and tourist come to enjoy its beauty and friendly people with big smiles. However behind that big smile is a very violent culture that has a history in waring tribes and cannibalism. This book is about growing up in a culture that is probably the modern equivalent of the Spartans during Greek mythological times.
Jese Temo's tag cloud