Michael J. Williams
Biography
Michael J. Williams was born in San Clementi, CA. At the age of 3 and grew up in the Gulfport/Biloxi area after a short five year stretch in Las Vegas, Nevada where he finished junior high school, discovered weight lifting, and found his imagination. Michael graduated from the small town of Carriere, MS to the Class of 2007 at Pearl River Central. Nowadays he is a happily married resident of Denham Springs, LA with his wife Lessie Marie Williams working as a Plastics Operator and a freelance writer. Michael loves classic American muscle cars, professional wrestling, tabletop games, video games, and playing music. When he isn't busy with work or being a father, he enjoys good movies, working on his writing project, relaxing with a great game title, or karaoke.
Where to find Michael J. Williams online
Books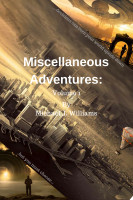 Miscellaneous Adventures: Volume 1
by

Michael J. Williams
MISCELLANEOUS ADVENTURES: VOLUME 1, is a collection of short stories that take place in a variety of genres. Immerse yourself in a criminal art heist, a classic wilderness tale deep in the heart of the Barun Jungle, an alternative historical Roman timeline, and find out how heroes fall. What changes between two lovers? Meet the last man from Earth as he encounters aliens inside their ship.
Michael J. Williams' tag cloud