SoUL
Biography
SoUL is an author collective formed by writers Jhaye-Q Baptiste, The Dispossessed, Patrick Joyce, and L. Ric Vidale, out of resistance to the creative confinement insisted upon them as "West Indian" authors.
Each writer, as a "muti-peopled" (multi-ethnic) citizen of the world, has over the years crafted a style that bucks the conventions still seeking to stymie the pace of modern Caribbean writers.
The band of writers collaborates to varying degrees on each novel project, crafting a fusion of style that echoes the blended notes of their heritage and the tone of the world today.
Chosen SoUL representative author and editor, Jhaye-Q Baptiste, has been at the forefront of the Trinidad & Tobago media since her introduction as the nation's entrant in the international Miss World 1988 pageant.
Jhaye-Q, born from a line of storytellers, worked her way up through the ranks of the editorial department of then prominent local newspaper, The Guardian, to eventually create the first ever openly liberal feminist columns in the land, "Surfacing," "Bitch's Brew" and "Brew." She also penned regular sex columns, "Sex and the Trini" and "Come Good."
Jhaye-Q later produced, directed and presented her own two-hour, five days a week TV talk show, The Jaye-Q Show, with a hip, unprecedented socio-spiritual slant. Her turbulent exit from the media arena of her nation provided the concept and much of the material for her first non-fiction book, Management and Other Murders (set for publication early 2015). She is currently working on setting up a publishing agency that will be more embracing and supportive of new approaches by Caribbean storytellers.
The Dispossessed, Patrick Joyce and L. Ric Vidale each produced as multi-faceted and flamboyant a professional history as their editor, but have opted for the protection provided by relative anonymity.
SoUL's work reflects shared accepting attitudes towards the innate human need for sex and gender balance within Self and societies; as well as the even deeper urge to be acknowledged as also spiritual embodiments living lives of manifest magical realism.
SoUL's next book, Deep Love, will explore the healing power of sexual expression, whether chosen to be shared or solitary.
Books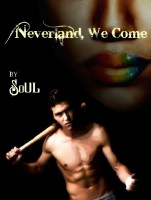 Neverland, We Come
by

SoUL
Five bitter young men burn a school and take wild flight from master race, master sex conditioning. They yearn for the balancing influence of Goddess, who comes in the form of a multi-ethnic woman inviting as earth. Faith lets the exiles attach to her with shocking intimacy, as each transforms to his new name: Hurt, Lost, Betray, Slay, Hate. Is Faith sadistic spur or North Star for the lostboys.
SoUL's tag cloud