Phat Le
Biography
Phat Le graduated from University of California, San Diego with a B.S in psychology and then completed his M.S. in counseling at California State University, Fresno, with a Marriage and Family Therapy and Pupil Personnel Services emphasis. He is a licensed MFT.

He has worked in dozens of schools and has engaged in educating thousands of youths. He dedicated three years to counseling underprivileged clients at Catholic Charities, a non-profit organization and then spent two years as a school counselor at a public school in California's Bay Area. He later went on to work with the San Diego Unified School District, to provide mental health services to youths and families at the Mental Health Resource Center.

Phat Le is in a musical band named Heart2exist which has recorded and produced two successful albums with original music celebrating diversity and advocating human rights. He has performed in numerous music videos and concerts within the Vietnamese American community. The author has a significant fan base through his music. The unique inclusion of his original soundtrack with the memoir is sure to spark interest from those who support music. This rare combination of a memoir produced with an original soundtrack will surely catch the attention of both literary and music critics everywhere.
Books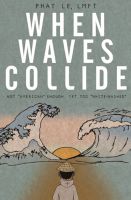 When Waves Collide: Not "American" Enough, Yet Too "White Washed"?
by

Phat Le
(5.00 from 1 review)
When Waves Collide is Phat Le's call for a deeper embrace in our cultural differences--- starting with an honest assessment of his own life journey. His exploration with the themes of love, relationships, family, and loss reveals the fact that no matter the differences in our cultural background, intense human emotions and the need for connection are universal.
Phat Le's tag cloud