Sylvia Dollar
Biography
Sylvia Dollar was born during the time that America was trying to recover from the failed economy and depressed times. As she walked, it was sad to see so many people homeless and hungry. She felt fortunate to have a rented home and backyard garden.

With seven children, Sylvia's mother had to "make do" with what she had. Sylvia loved her mother and admired her genius of "making do". All socks, or shoes, were mended, not replaced with new. Old clothes were cut up, to be used as rag hair curlers, cleaning rags or rag dolls.

Sylvia's mother was very firm with her children, about personal cleanliness, clean clothes, good manners and unquestionable character. She had a kind heart, and always made time to listen to her children.

On Sylvia's first day of school, one of her carefully darned socks ripped. Two girls laughed and pointed. At that moment, Sylvia learned about being embarrassed by others, and how much it hurt to be very poor.

Sylvia cried all the way home. When her mother asked why she was crying, Sylvia told her what had happened. Her mother said, "You have more wealth than any of those people who have embarrassed them. You don't have to be rich to have a good attitude, manners, kindness and a smile for others. Those things cost nothing. It only takes the desire to be the very best that you can be. The real value of a person's character sometimes goes unnoticed, because people prejudge about ownership of material things. Clothes and things get thrown away, but good manners never go out of style."

Remembering her mother's encouraging words gave Sylvia the confidence, courage and self-esteem to move forward with her life, and to expect great things in her future. Her mother was Sylvia's first and best "Wiser Owl".

Being only six years old and not yet knowing how to write, Sylvia created her first verse by memory. Singing it made her feel better about herself and everything else.

"It makes no difference what you wear, because you are never really dressed, until you wear nice manners, a good attitude and a sincere smile.

Be a true friend, don't make trouble, be the best that you can be, because a strong effort, true friends and good manners never go out of style."

Though this story is about a baby frog, small children experience the same emotions of fear and challenge each day.

Sylvia graduated from Barbara Holden Finishing School and Massey Business College. She started her career, as a professional model, with Neiman Marcus.

For purchasing information about "Little Jittery", or to inquire about the other books and greeting cards by Sylvia Dollar, please e-mail: SylviaDollar@msn.com OR Whisperingly@msn.com OR write to P.O. Box 17715, Jacksonville, Florida 32245.

More books for children coming soon.
Books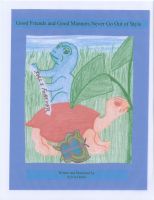 Good Friends and Good Manners Never Go Out of Style
by

Sylvia Dollar
Twelve short stories about good friends helping each other through life.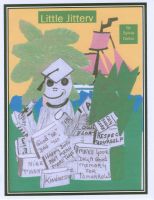 Little Jittery
by

Sylvia Dollar
After an accident on the river, a baby frog met A. Wiser Guy owl. The owl asked some of his friends to help teach the baby survival skills. Bizzy Buzzy beaver and four frogs, Happy Times, One Beacon, Just Two Whistles and One Short Limpy, taught the baby how to gain skills and confidence. A. Wiser Guy taught the baby frog how to have a good attitude and courage to meet his goals in life.
Sylvia Dollar's tag cloud