Whitney Argento
Biography
Whitney writes erotic romance that examines the darker, more complex facets of relationships: she focuses on the straying eye and the cheating heart, and the immense power of human sexuality that can compel us to act against our best intentions.
The endings aren't always happy in Whitney's world, just like real life... but every adventure she takes you on will have you on the edge of your seat, wondering how it's all going to turn out...
Books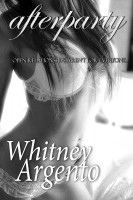 Afterparty: Open Relationships Aren't for Everyone
by

Whitney Argento
A tale of erotic romance: Catelyn and Aaron are successful, attractive film professionals whose marriage is struggling, though nobody sees it. William and Olivia are happily married and like to bring in other couples to spice things up. When William and Olivia separately seduce Catelyn and Aaron, they don't realize the sexual minefield they're stepped into...
Whitney Argento's tag cloud