William Clyde
Biography
Bill Clyde is a father of five, college professor and provost. He earned a PhD in economics from Edinburgh University in Scotland, a master's degree in chemistry from New York University, and a bachelor's degree in chemistry and economics from DePauw University. Bill has published in the areas of chemistry, finance, chaos theory, learning theory, and technology, traveled to 25 countries, served on the boards of several non-profit organizations, and was a currency trader for six years before returning to academe.
Books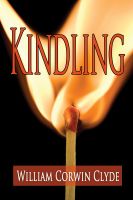 Kindling: Igniting a Life of Insight and Purpose
by

William Clyde
Composed of forty essays filled with stories and reflections, Kindling is a collection of life lessons the author originally wrote to give his children a 'head start' in becoming adults. As its name implies, Kindling is not an ending, but a beginning, inspiring lives filled with exploration and thoughtfulness.
William Clyde's tag cloud