William Hebden
Biography
For the record, I live in the North of England, and have spent most of my life distracted from writing by the need to hold down a responsible job and to earn a crust. Now I have a little more time on my hands.
I have always had an affinity for writers who prefer to remain relatively unknown until their work proves itself by its own merit. I particularly admire Alfred Wainwright who, legend would have it, often sat on the top of Lakeland fells discussing himself with people who had no idea who he was.
At 66, I am not attracted by fame, though a little fortune would not go amiss. So I hope you'll forgive me if I remain in the background and let The Camthorpe Miracle out into the world on its own. You never know; some folk might find enough amusement and entertainment in its pages to arouse a bit of curiosity about its author.
Books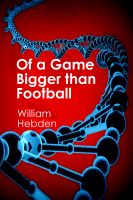 Of a Game Bigger than Football
by

William Hebden
(5.00)
A soccer team's change of fortune leads into unfamiliar territory where old rules no longer apply.
William Hebden's tag cloud