William Salmond
Biography
William Salmond is a Scot who has spent most of his working life in Africa in the field of International Development.
In Ghana he was ordained a Minister of the Presbyterian Church of Ghana. In Uganda he pioneered sub-Saharan Africa's first HIV/AIDS Counselling Centre - AIDS Information Centre - and more recently he directed the Elizabeth Glaser Pediatric AIDS Foundation Africa program, working towards the elimination of paediatric AIDS. He started Ariel Children's Camps for HIV positive children and these are now run in many African countries.
His previous books are Grandma, published by Baroque Publishers in Kampala, which won the 2008 National Book Trust of Uganda Literary Award.
Also Adventures of Isha, his first children's book, published by Fountain Publishers of East Africa.
He now calls Westport, Connecticut in the United States his base camp.
Books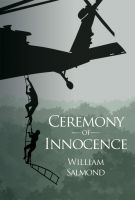 Ceremony of Innocence
by

William Salmond
How strong is love? Can it overcome being trapped in the preparation for a nuclear hellstorm? Can it overcome capture in the remote, dangerous Ituri Forest of D.R. Congo? Meet Rory; a water engineer who is on a secret quest to find his son. Meet Silvery, prospecting for both rare minerals and love. In Africa, their paths cross.
William Salmond's tag cloud