Ted Weisgal
Biography
Ted Weisgal is the co-founder of Leisure Learning Unlimited, a for-profit leisure education company. Since founding LLU in 1979, Ted has taught a free class in the basics of Robert's Rules of Order to a wide range of students, including members of the Houston City Council, to both the Houston and Pearland (Texas) Independent School Districts' Board, and Superintendent, to student governments at the University of Houston-Downtown and Texas Southern University, to the Student Bar Association at Texas Southern University's Law School, to homeowner associations (HOA's), to the League United of Latin American Citizens (LULAC), to labor unions, community organizers and to many Rotary Clubs. But his most memorable experiences have come from teaching Robert's Rules to elementary school children.

Born in California to a union organizer father and woman's rights supporter mother, Ted pursued a degree in Journalism at San Jose State during the turbulent 1960's. While his basketball career was short lived, his love for parliamentary procedure was sparked watching Student Government meetings. During this time, he helped found several student and activists groups, but without using Robert's Rules. Difficulties, and ultimately dissolution, of these groups taught the author the benefit of using a structured approach to run organizations.

After college, the author, while at the University of Houston, was instrumental in founding their lifelong learning program, Sundry School. At the same time, he co-founded the Houston Food Co-op from which the StreetFarmer's Food Co-op was born. Unfortunately after ten years in operation, the lack of clear rules resulted in internal struggles that ultimately dissolved these efforts too.

It all finally came together in 1978 when the author co-founded Leisure Learning Unlimited, lifelong learning school, which grew to 500 different classes in the schedule, and is still strong today. The author has taught Robert's Rules of Order as a free class for the past 35 years.
Books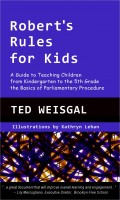 Robert's Rules for Kids: A Guide to Teaching Children from Kindergarten to the 5th Grade the Basics of Parliamentary Procedure
by

Ted Weisgal
Society is dysfunctional. It no longer works. Every special interest group uses bullying tactics to make others submit to their agenda. It leaves many people with no voice. We need to hear everyone's voice, and not just those who scream the loudest. Democracy is for everyone. Learn fundamental principles of order in meetings in this guide designed specifically for teaching children from K to 5th.
Ted Weisgal's tag cloud