Water Puppy Wrangler
Biography
Water Puppy Wrangler is not my real name. I am a novice gardener and beginner aquapon, writing under the above pseudonym, who is interested in learning about and growing vegetables, herbs, and fruits for family and friends, while enjoying my water puppies. I offer my personal experiences in aquaponics gardening, as well as my adventures with my water puppies, in a narrative that will, hopefully, both inform and entertain. The intent of this eBook is not to present myself as any resemblance of an expert, nor my research or experiences as authoritative, but to relay what I have researched and learned, my decision process and subsequent actions, and how it all fared in a diary-like fashion.
Where to find Water Puppy Wrangler online
Books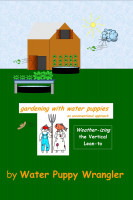 Gardening With Water Puppies, An Unconventional Approach: Weather-izing the Lean-To
by

Water Puppy Wrangler
Disappointed in the lack-luster performance of the originally designed doorway to our aquaponics lean-to grow area, we re-designed and constructed a new doorway that seemed to tame the wild and unruly easterly and southerly winds that had battered the original door. With the new design surpassing our expectations, we undertook a major re-do of the lean-to structure, minus the frame and one wall.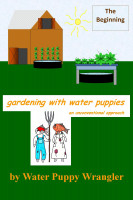 Gardening With Water Puppies, An Unconventional Approach: The Beginning
by

Water Puppy Wrangler
"gardening with water puppies, an unconventional approach: The Beginning", chronicles our adventures in aquaponics as we garden and grow plants we love, with water puppies that are not what you may think, and with unconventional approaches that are, well, just that... unconventional! We offer practical advice from extensive research and hands-on experience with lots of unconventional approaches.
Water Puppy Wrangler's tag cloud