Geoff Green
Biography
Geoff Green is keen amateur birdwatcher. Since his mid-20's he has had a particular interest in birds, including spending many hours in inhospitable weather just hoping that special bird will turn up! Geoff has also pursued his interest studying all aspects of birds - their identification, behaviour, history and characteristics. Over the years he has recorded information on birds and particularly bird names. Retirement provided the opportunity to collate all this material into a book, having had experience of writing books from his career as a lecturer. He hopes by publishing he can share his interest and knowledge of birds with others. Geoff is a member of a range of wildlife and birding organisations and has worked as a volunteer with the RSPB. He is currently an active member of Devon Birds as a member of a committee.
Books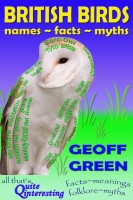 British Birds -Names~Facts~Myths
by

Geoff Green
A book exploring the intriguing world of the meaning of the names of 231 British birds, giving an insight into how birds were given their names. Uniquely the book explores all three name categories for birds - local, vernacular and scientific names, supplemented with interesting facts, data and insights about birds. Enjoy this book as a serendipity of the meanings of the British bird names.
Geoff Green's tag cloud