Dan Stott
Biography
I'm a teacher in Oregon looking for ways to make the Bible more accessible and easier to search. I've collected Bible entries over the past twenty years and have finally found a way to organize them in a useful way. Instead of just searching for topics or keywords, I can now search the Bible by warnings, counsel, prophecies, blessings, doctrinal insight, or consequences. There are about 30,000 entries altogether, some of which are listed on my new website. Searches that use to take hours now take about two minutes or less. I hope that these Bible references are useful for others as well.
Books
Index of Promises
by

Dan Stott
The purpose of this scripture reference is to organize all of the blessings and promises in the scriptures. More than 2,000 entries have been organized into about 400 categories and about 1,400 subcategories. All of the entries are listed alphabetically according to keywords, in an 'if-then' format. The 'if' part of each entry is on the left side and the 'then' part is on the right.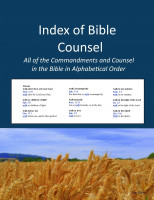 Index of Bible Counsel: All of the Commandments and Counsel in the Bible in Alphabetical Order
by

Dan Stott
The main purpose of this Bible reference is to make all of the counsel and commandments in the Bible more accessible. Browse more than 3,000 entries, sorted alphabetically by keywords. Or click on approximately 900 subcategories in the index...
Dan Stott's tag cloud